PAPANTONATOS S.A. offers a complete range of wastewater pumps up to 170kW.  PXFLOW pumps have been specifically designed to be installation and maintenance friendly. They introduce a whole suite of features that make them the most useful and versatile pumps on the market.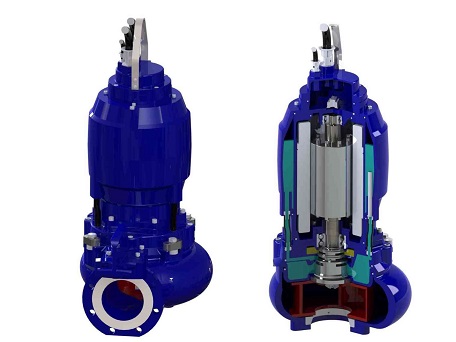 Internal cooling system, "ECOFLU" (closed loop through a cooling jacket), maintains motor temperature to optimal operating levels.An internal impeller, fitted between the mechanical shaft seal circulate a cooling liquid (Ecoflu) in a closed loop through a cooling jacket and transfer the heat to the pumped liquid by a cooling flange (heat exchange).
Cartridge sealing system "Fast Seal".
Easily adjustable channel impeller clearance system, "Reducer"* used in all installation types, for improved performance and less clogging occurrences.
Oil tap drain.
Free choice* of channel or vortex impeller that can be fitted to the same volute
Fast lock assembly/disassembly feature with only two (PX1/2) or four (PX3) or six (PX4)
for quick and easy volute/impeller inspection (major advantage is the significant reduction of man-hours)
Electrical motor PXFLOW – SIEMENS motor parts standard IE1 or higher efficiencyIE2 (premium efficiency IE3 as option), have Class F insulation (rated for 155 degrees Celsius) as standard (Class H rated for 180 degrees Celsius as option)
Motor inspection hole
Cable entry on the side of the pump cover
Handle in Stainless steel
Motor power up 115kW/50Hz – 180HP/60Hz.
High head pump series, (up 110m head), with vortex impeller.
Grinder pumps up to 13,5kW and max head 76m.
High head pump series, (up 110m head), with vortex impeller.Grinder pumps up to 13,5kW and max head 76m
Wet set DCB + adapter + UGB (guide rail system)
When lowered on its guide rail system consisting of two guide
rails, each pumping unit be automatically and firmly connected to a discharge connection bracket permanently mounted on the wet-well bottom. Sealing of the discharge connection by metal to metal contact of the pump discharge flange and the discharge connection bracket.This contact method (metal to metal) allows the pump to clear away any debris that might get caught between the flanges and cause leakages. All guide rail system ensure no need any personnel to enter the wet-well for any reason.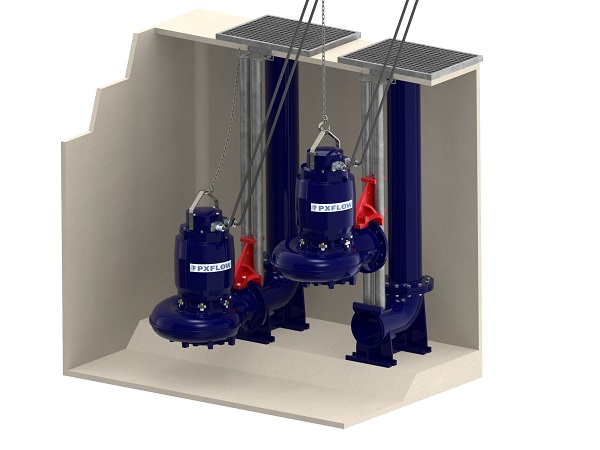 Wet type installation                               Dry pit (vertical type) installation
Portable type installation                        Dry pit (horizontal type) installation
Performance range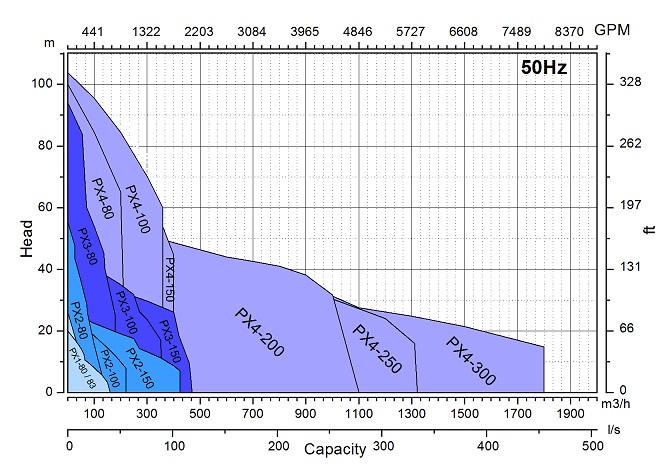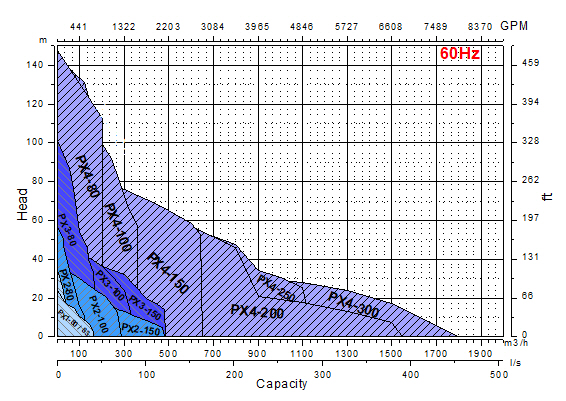 Major maintenance and service advantages
• Same motor connection flange with the old design PUMPEX and PXPUMP
• Interchangeable parts with other manufactures
• Discharge flange connection and adapter design for quick and easy replacement with other manufactures pumps.such   ITT Flygt ABS SULZER EMU WILO HOMA FAGGIOLATI CAPRARI ZENIT PUMPEX PXPUMPS PXPUMPER SONDEX GRUNDFOS SARLIN EBARA TSURUMI KSBNew