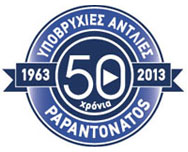 We are celebrating our 50th anniversary!


This year, Papantonatos , producer of submersible waste water pumps series PXFLOW and deep well pumps series FLOWPAP is celebrating its 50th anniversary. The roots began in Greece in 1963 by Elias N. Papantonatos.senior. First he started working for KSB in Greece just from 1950 until 1962. After then he continued with Pleuger pumps and motors.
We are proud for being one of the oldest distributor of Pleuger products worldwide. Due to the high import tariffs  and the depreciating value of local currency, he was forced to begin manufacturing centrifugal single stage and multistage pumps as well as submersible turbine pumps. Early in 70's he focused exclusively in the manufacturing of submersible turbine pumps with Pleuger's support.
2004 the two Sons of Papantonatos senior started to produce submersible waste water pumps series PXFLOW.
With half a century of experience in the submersible pump field we continue to improve our existing range using high efficiency motors and focus to build bigger size of submersible pumps and motors.