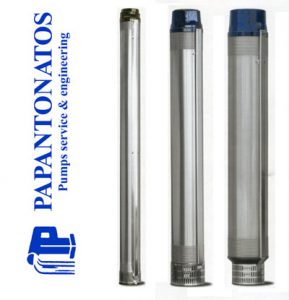 INOX POLYCARBONATE SUBMERSIBLE PUMPS
FLOWPAP – STAA submersible pumps are used for raw water supply, irrigation systems, groundwater lowering, pressure boosting , various industrial applications. They have been manufactured from STAA POMPE Italy for PAPANTONATOS SA over 20 years.
Applications:


FLOWPAP – STAA Submersible pumps are designed for a wide range of applications within
water supply and liquid transfer such as groundwater supply for single-family houses or waterworks, irrigation systems for horticulture or agriculture, groundwater lowering or pressure boosting as well as various industrial applications.
Pumped liquids:
Thin, clean, non-aggressive liquids without solid particles or fibers
Pump Material Range
Suction, discharge (standard) : in cast iron
External housing (standard) : in stainless steel
Impeller and diffuser (standard) : in Polycarbonate
Stationary exchangeable wear-resistant rings
Shaft : in stainless steel
Radial bearings :maintenance-free water lubricated by the pumped liquid, in rubber
Coupling (standard) : in stainless steel
Nuts and Bolts : in stainless steel
Strainer (standard) : in stainless steel
Cable guard : in stainless steel
Check valve : Non-return valve, with threaded port (G)